Sign-up fees are common with private jet programs in the United States, but the concept is less common or proven in Australia. This article helps explain what it is, why we have it in place, and how it enables our value-driven occupied hourly rate.
Our Access by Airly program comes with an annual fee of $9,950 for two card holders.
For those who aren't familiar with private, or perhaps have only chartered once or twice in the past, this can feel like quite a charge for no immediate product or service.
The reason the annual fee exists is to help smooth and flatten the fixed costs involved in operating, positioning, and making available six premium Cessna Citation Mustang jets for card holders. This enables us to deliver a consistent and low occupied hourly rate by reducing and removing unexpected operating costs caused by factors such as repositioning, holding, taxiing, and delays.
Additionally, the annual fee contributes to ensuring the highest quality service providers, operators, pilots, building an incredible team, and being able to update our platform on a regular basis.
So when real-world Access cardholder George was in the process of signing up, he also had some reservations about the annual fee. However, the fact that he was planning to fly 5-8 times a year made the cost savings compelling.
How soon did George make back his annual fee in savings?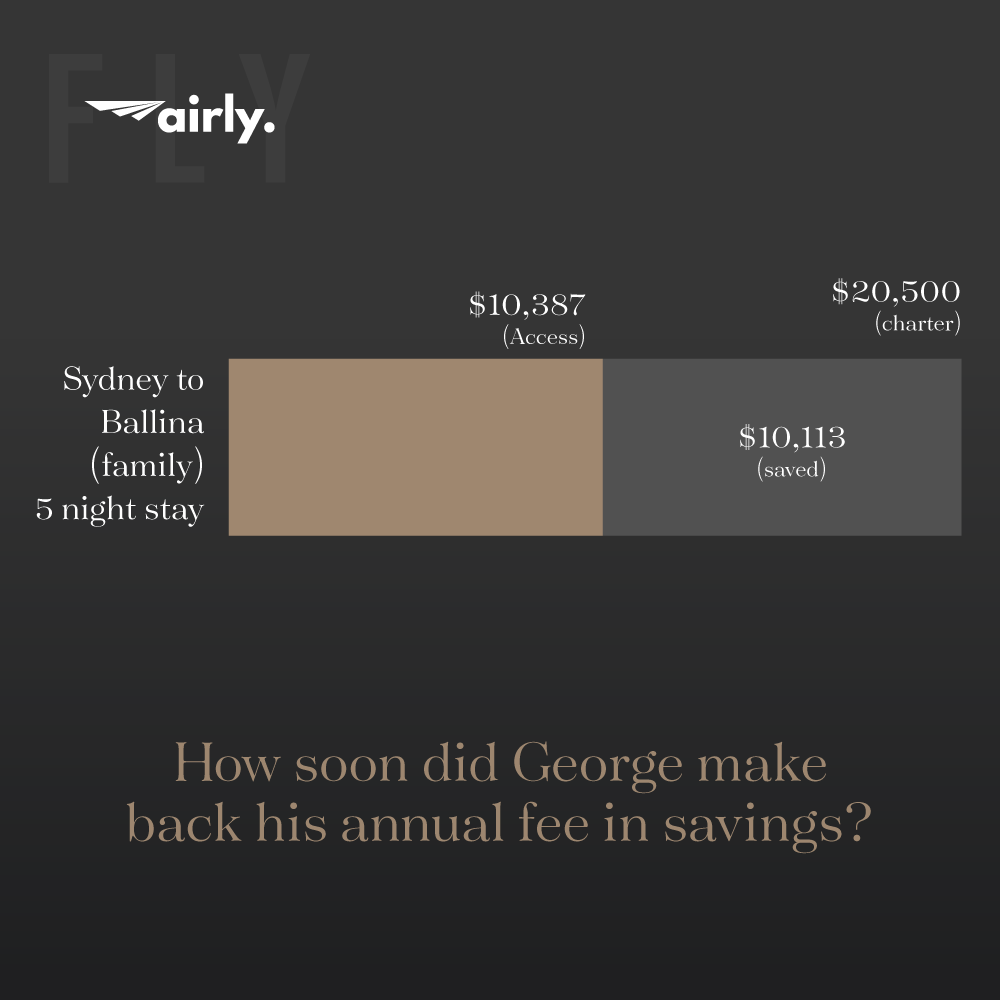 Despite traveling mostly for business, George first utilised his Access by Airly card in taking his family to Byron Bay for a five-night holiday.
To charter, it would have cost him $20,500 return for a similar size jet.
Under Access by Airly, George paid $10,387 return, immediately saving him more than the annual fee he paid.
On average, our card holders make their annual fee back by the second or third trip – and that's not including all the additional value the program provides outside of competitive flight pricing:
Six jets available to you on the east coast – no other provider can provide such coverage;
The most consumer-friendly booking, cancellation, and change terms;
No positioning fees or overnight fees; and,
A consistent and predictable experience